Primary Source: Football is Coming Home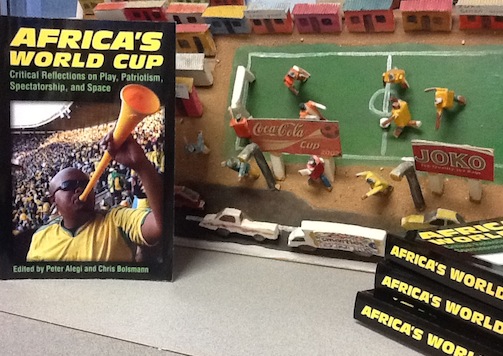 The Football Scholars Forum, an online fútbol think tank I co-founded at Michigan State University, recently launched its 2013-14 season. On October 24, FSF held a lively discussion of Africa's World Cup: Critical Reflections on Play, Patriotism, Spectatorship, and Space, a newly published collection I edited with Dr. Chris Bolsmann, a South African sociologist based in the UK.
The 90-minute event opened with a consideration of the book's attempt at blending scholarly and journalistic approaches to exploring the game and its broader implications. The editors and several chapter authors in attendance talked about the process of writing and editing, as well as their experience working with an academic press on a topic with potentially broad appeal.
The book, much of it written in the first person as a loving critique of the 2010 tournament, demonstrates how the FIFA World Cup story is entangled in a web of national and international politics, sporting culture, and global capitalism. Many interventions linked South Africa 2010 to Brazil 2014, particularly through the public financing of expensive and unsustainable new World Cup stadiums in countries with dysfunctional schools and hospitals and high rates of poverty and inequality. The online conversation also featured Luis Suarez's handball against Ghana and the contradictory legacies of this "African" World Cup.
Participants logged in from half a dozen countries in North America, South America, Africa, and Europe. In attendance: Andrew Guest, Chris Bolsmann
, Christoph Wagner
, David Patrick Lane, 
David Roberts, 
Derek Catsam, 
Jacqueline Mubanga, 
Raj Raman, 
Orli Bass
, Rwany Sibaja, 
Laurent Dubois
, Achille Mbembe
, Jordan Pearson, Sean Jacobs, and Alex Galarza (all via Skype); and Liz Timbs, 
Dave Glovsky, 
Alejandro Gonzalez, and 
Peter Alegi (in East Lansing).
For a Storify Twitter timeline of the event click here.
The audio recording of the discussion is freely available here.
The next Football Scholars Forum event on November 14 will focus on Soccer in the Middle East, a special issue of the journal Soccer and Society (2012), edited by Alon Raab and Issam Khalidi.
The following two tabs change content below.
Peter Alegi is Professor of History at Michigan State University. He is the author of Laduma! Soccer, Politics, and Society in South Africa (University of KwaZulu-Natal Press, 2004) and African Soccerscapes: How a Continent Changed the World's Game (Ohio University Press, 2010). With Peter Limb, Alegi hosts the "Africa Past and Present" podcast. Follow him on Twitter @futbolprof.
Latest posts by Peter Alegi (see all)