Primary Source: : Possibilitator
In the past 18 months I have read a number of engaging books looking at both the problems and the possibilities of our global economy.

Tim Jackson's, Prosperity Without Growth
Robert Frank, Darwin Economy
Molly Scott Cato, Green Economics and more recently The Bioregional Economy
Gilbert Rist, Delusions of Economics
Susan Davis and David Bornstein, Social Entrepreneurship: What Everyone Needs to Know
Michael Schwalbe, Rigging the Game
Philip Smith and Max Neef, Economics Unmasked
Marjorie Kelly, The Owning Our Future
Rob Dietz and Dan O'Neil, Enough is Enough
Charles Eisensten, Sacred Economics
Michael Shuman, Local Dollars, Local Sense

Add to the list another title started over the weekend Solidarity Economics I: Building Alternatives for People and Planet, based upon papers presented at the 2009 U.S. Forum on the Solidarity Economy. I am pleasantly surprised to keep unearthing new "possibilities" for an economy that is based on principles of "solidarity, sustainability, equity in all dimensions, participatory democracy and pluralism" (p.13)
From the early pages of this 356 tome, there is an evident ethos that I find particularly inviting. Alan Miller writes in  chapter 2 there "are already-planted seeds of what many organizers and activists around the world are calling a "solidarity economy." Our task is not to invent a new economic blueprint from scratch and then convince the world to adopt it, but rather to participate together in ongoing work to strengthen, connect and build upon the many economic practices of cooperation and solidarity that already exist..
…Solidarity economy is an open process, an invitation. The concept doe not arise from a single political tradition or body of ideas. Its very nature and definition are in continual development, discussed and debated among its advocates. Seeking to "make the road by walking" rather than to push a closed or finalized ideology, solidarity economy is a "movement of movements" continually seeking connections and possibilities while holding on to the transformative commitment to shared values. (pp.25-26)
U.S. Solidarity Economy Network (SEN) is one of several emerging websites connecting those interested in the possibility of a different economy. The site has many useful links to others around the world working towards a solidarity economy.
Another grassroots shaker is Michael Shuman, who has been pushing the local focus through his books, Going Local and Local Dollars, Local Sense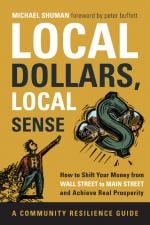 as well as his efforts as a leader with the Business Alliance for Local Living Economies (BALLE). Catch this very engaging 30 minute talk, Creating Local Wealth he gave sharing examples from communities across the country of what is POSSIBLE.
We haven't yet cataloged nor imagined all the possibilities. Time to set the creative juices flowing….
The following two tabs change content below.
Terry Link is a retired MSU librarian, former founding director of the MSU Office of Campus Sustainability, and co-founder and former chair of the American Library Association's Task Force on the Environment. He recently served as associate editor for the two-volume encyclopedia, Achieving Sustainability: Visions, Principles, and Practices(Gale/Cengage 2014). He has also served as executive director of a regional food bank and as a county commissioner. Currently he is president of Starting Now, LLC, a sustainability consulting firm, a Senior Fellow for the U.S. Partnership for Education for Sustainable Development and serves on numerous non-profit organization boards.
Latest posts by Terry Link (see all)