Primary Source: Football is Coming Home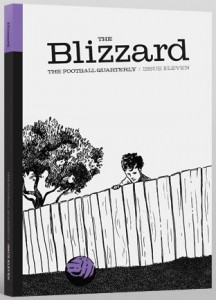 On December 5, Jonathan Wilson, journalist, author, and founding editor of The Blizzard, and the Football Scholars Forum convened for an online session devoted to independent fútbol writing in a digital age.
Wilson fielded a range of questions from an international audience from five continents during a 90-minute conversation that blended English pragmatism and fútbol romantico, and indirectly grappled with Simon Kuper's critique that "Football just isn't what it's cracked up to be," and "anyone who peeks behind football's curtain discovers there is no magic there."
The Forum with Wilson pivoted around the notion that there is a growing English-speaking audience for longer-form writing about the game that goes beyond mixed-zone clichès, diatribes about managers, questionable refereeing decisions, and other narrow, shallow concerns of so much contemporary sport journalism. The challenges and opportunities of publishing in print and digital formats sparked conversation and debate, as did the evolving relationship between the futbology work of reporters and academics.
The audio recording of the session is available here.
For a Storify Twitter timeline click here, with special thanks to Liz Timbs (@tizlimbs).
Learn more about the Football Scholars Forum here.
The following two tabs change content below.
Peter Alegi is Professor of History at Michigan State University. He is the author of Laduma! Soccer, Politics, and Society in South Africa (University of KwaZulu-Natal Press, 2004) and African Soccerscapes: How a Continent Changed the World's Game (Ohio University Press, 2010). With Peter Limb, Alegi hosts the "Africa Past and Present" podcast. Follow him on Twitter @futbolprof.
Latest posts by Peter Alegi (see all)