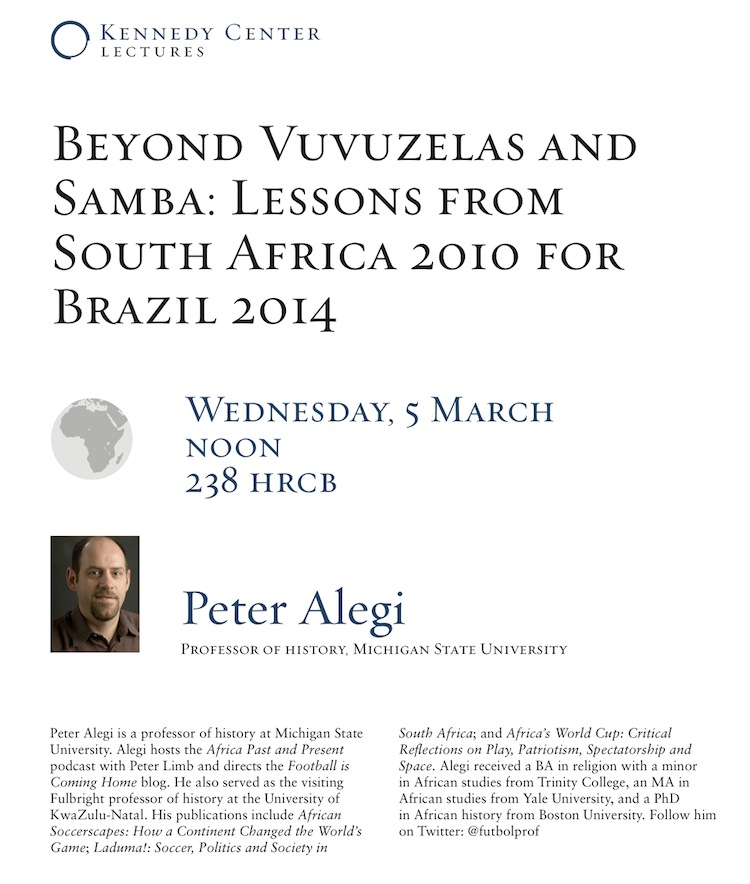 Listen to "Beyond Vuvuzelas and Samba: Lessons from South Africa 2010 for Brazil 2014," a lecture I delivered at Brigham Young University's David M. Kennedy Center for International Studies on March 5, 2014.
The talk analyzes the political, economic, and cultural dynamics of the 2010 FIFA World Cup in South Africa and its similarities to the upcoming 2014 FIFA World Cup in Brazil.
Click here to watch the video.
The following two tabs change content below.
Peter Alegi is Professor of History at Michigan State University. He is the author of Laduma! Soccer, Politics, and Society in South Africa (University of KwaZulu-Natal Press, 2004) and African Soccerscapes: How a Continent Changed the World's Game (Ohio University Press, 2010). With Peter Limb, Alegi hosts the "Africa Past and Present" podcast. Follow him on Twitter @futbolprof.
Latest posts by Peter Alegi (see all)