Primary Source: Possibilitator
"As we put out resources and energy into war we lose out in other areas: education, parks, vacations, retirements. We have the best military, and the best prisons, but trail far behind in everything from schools to healthcare to internet and phone systems." (p.105)
So reads, War No More: The Case for Abolition by David Swanson. This was gift received from a fellow board member at our last Peace Education Center board meeting (Thanks Kate and Raoul!!). Shortly after reading this page this morning I opened the Sunday paper (Lansing State Journal)  to see a chart that showed where the US ranks among OECD nations in a number of areas, which confirmed Swanson's statement.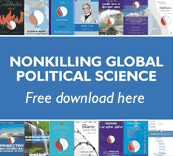 As I come down the homestretch of reading political science Prof. Emeritus Glenn Paige's, Nonkilling Political Science, I find myself astounded at the absence of any serious consideration of his thesis, which is briefly shared in the short interview with him from 2009.
Last night, Ellen and I watched the PBS American Masters, Pete Seeger: The Power of Song and were so deeply moved by his life, one dedicated to justice peace, community, and song. Seeger, epitomized, by his life's decisions how to confront the impossible, whether it was the House UnAmerican Activities Committee that blacklisted him, or the cleanup of the Hudson River. His willingness to suffer the abuse for standing by his convictions, evidenced by the powerful singing of "Waist Deep  in the Big Muddy" during the Vietnam War on the Smothers' Brothers TV show. He made change possible. Oh, to emulate such a good soul.
Also on the table of books I'm reading includes one added this week, Who Ordered This Truckload of Dung? by Ajahn Brahm. This light-hearted but deeply profound collection of short pearls of wisdom by a Buddhist abbot, called the 'Seinfeld of Dharma', covered the concept of 'fear' in the pages read this morning
  He points out that fear is future based. We worry about what MIGHT happen, not necessarily what will happen, because we can't predict the future. Swanson shows how this same fear drives much of our war activity. It seems likely then that reading Brahm might offer some ways to see both Paige's and Swanson's goals of ending killing and war. There can be no doubt that our fears drive us to waste lives, resources, time and so much more preparing to kill others. Our nation"s defense ( largely used offensively) budget and our university research labs designing more distant ways to kill those we have never met offer telling examples.
Seeger's ability to bring people together through song was brought home not just by all the great footage of him over 70 years of singing and activism, but perhaps most powerfully by one of the last stories told in the 90 minute biography, about an angry Vietnam Vet who came to a concert of his with plans to kill him, but whom after the concert had a sea change of heart.
So as all these sources made abundantly clear to me – if we can't end war and killing we will never stop climate change or the resulting ecological unraveling or the increasing inequality that threaten our existence as a species on this earth. As Paige describes in the interview above, it seems likely that if we could end the killing we would likely solve most of the other issues before us. There is little recognition, let alone emphasis on how important this change of mindset is for those calling for sustainability. If we could abolish slavery, we can abolish war. Maybe we've been starting in the wrong place. These gents offer us some refreshing possibilities. The future is ours to create. Nonkilling is as good as any place to start. War No More. All in favor? Let your voice be heard.
A special plea to my fellow baby-boomers – what could be a higher calling than to use our last years working to make the dream of no more war a reality. any of these writings or videos may nudge us towards that possibility. Feed your better wolf…
The following two tabs change content below.
Terry Link is a retired MSU librarian, former founding director of the MSU Office of Campus Sustainability, and co-founder and former chair of the American Library Association's Task Force on the Environment. He recently served as associate editor for the two-volume encyclopedia, Achieving Sustainability: Visions, Principles, and Practices(Gale/Cengage 2014). He has also served as executive director of a regional food bank and as a county commissioner. Currently he is president of Starting Now, LLC, a sustainability consulting firm, a Senior Fellow for the U.S. Partnership for Education for Sustainable Development and serves on numerous non-profit organization boards.
Latest posts by Terry Link (see all)