Primary Source: Football is Coming Home
For as long as I can remember, soccer in the United States has been referred to as the "sport of the future." Last week's "Soccer as a Beautiful Game" international conference at Hofstra University buried this notion once and for all.  Hofstra history professors Stan Pugliese and Brenda Elsey did a marvelous job organizing the global conclave.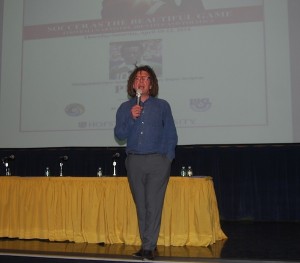 I arrived at the largest fútbological congress ever held in the U.S. just in time to hear David Goldblatt's keynote address. Expecting a brilliant presentation based on his new book on Brazilian futebol, Goldblatt surprised many of us by delivering a democratic populist manifesto for the transformation of the world's game.  Goldblatt's passionate speech for reform appealed to the suffrage of ordinary fans. (Click here and here to read more about this talk.)
Energized by Goldblatt's provocative address, I had to choose which of several enticing but concurrent panels to attend.  As a historian, I decided to privilege sessions with historians, Global South topics, and presentations by Football Scholars Forum members.  Much like football radio broadcasts of the pre-satellite TV era, many of us kept track of the action unfolding in other panels via the active Twitter back channel (#HUsoccer @HofstraSocConf).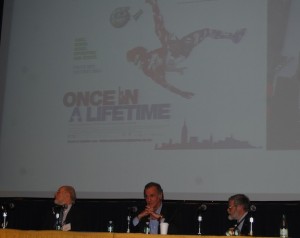 My afternoon began with an excellent panel on the New York Cosmos, past and present.  An impressive and eclectic lineup captured the essence of the entire conference: Cosmos' official historian, Prof. David Kilpatrick;  George Vecsey of the New York Times; former Cosmos goalkeeper (and Harvard graduate) Shep Messing; U.S. Soccer Hall of Fame historian Roger Allaway; and Leo Glickman, of the Borough Boys ultras fan group.  I transitioned from the local to the international in a terrific session on gender and sexuality.  Conference co-organizer Brenda Elsey on women in Chilean football culture; Stacey Pope on the 1966 World Cup and English women fans' growing engagement with the game; Joshua Nadel—author of a new book titled Fútbol: Why Soccer Matters in Latin America—on the marketing of women's soccer in central and South America; and a brave Haverford College senior on contemporary soccer, homophobia and masculinity.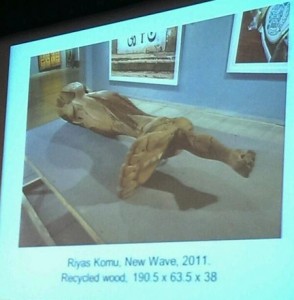 Sexism and homophobia were at the heart of Jennifer Doyle's evening keynote. It highlighted stark discrimination against women in world soccer and struggles in amateur leagues in Los Angeles. Drawing on queer theory and cultural studies, as well as her recent book on emotion in contemporary art, Doyle examined oppositional soccer art. Examples included posters not chosen by FIFA as official 2010 World Cup posters and Riyas Komu's "New Wave" sculpture (in photo by @jhnadel). For Doyle, "resistance" art and women's football embodied powerful alternatives to the dominant model of global soccer: FIFA's male-dominated corporate-style heteronormative World Cup. A great first day. And there were two more to go!
Friday took me to a set of wonderfully documented historical studies on soccer, sociability, and urban politics on three continents. Karina Ovsepyan examined Zenit Leningrad as a model of Soviet organization; Gabe Logan shed light on a soccer team run by gangsters and brewers in Depression-era Chicago; Tom McCabe (in photo) took us further back to a time when a white (mainly) European neighborhood in industrial Kearny, New Jersey, became "America's first soccer neighborhood; and last but not least, Alex Galarza presented his ongoing doctoral research on the failed Ciudad Deportiva mega-development in 1960s-70s Buenos Aires.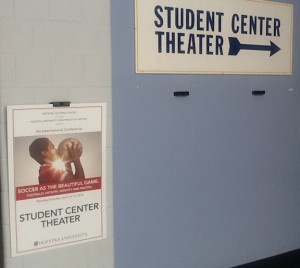 My panel came next: Politics of the Mega Event. Alexander Kitroeff explored Greece's triumph at Euro 2004 and its implications for culturally defined national identity and nationalism. I evaluated the positives and negatives of the 2010 World Cup in South Africa and compared these with the politics and economics of Brazil 2014. Francesca Conti considered the 1990 World Cup within the context of a changing Italy, and Chun Wing Lee closed with a look at whether Hong Kong footballers at the 1966 Asian Games could represent their "nation" within FIFA during the Cold War.  A memorable moment came during the Q&A when a FIFA representative in the audience said that host nations that build unsustainable World Cup stadiums are "stupid," a comment chastised by the sharp moderator, Matthew Futterman of the Wall Street Journal, for not acknowledging the world body's imposition of strict hosting rules, requirements, and legally binding agreements.
The rest of Friday was devoted to a ceremony awarding Pelé an honorary degree (see video below) and the evening banquet with the King of Football. Unfortunately, Pelé did not sign autographs or allow us to snap photographs with him.  This type of celebrity behavior was a reminder of why in Brazil Pelé is admired but Garrincha is loved.
Saturday—the final day—opened with a packed house at the Football Scholars Forum on academic vs. journalistic fútbol writing. Simon Kuper, Brenda Elsey, John Foot, Grant Wahl, Alex Galarza, and I had done pre-conference blog posts to jump start the discussion (click here to watch my video blog). This format aimed at bringing in the audience and lending a town hall feeling to the session. We were grateful to have historian Chuck Korr as our experienced moderator when sparks flew during the discussion. For a detailed account of what transpired see the Storify-ied tweets below. (Unfortunately, my attempt at recording the audio of the session failed.)
Somewhat drained by the Football Scholars Forum, I spent the rest of the morning moving between an intriguing panel on U.S. soccer that included Andrew Guest, Danyel Reiche, and Kevin Tallec Marston, and a less stellar one on media and football.  The academic side of conference ended with an uncomfortably large group of journalists, editors, publishers sharing insights on their work and a plenary session whose highlight for me was a stunning presentation on the Museu do Futebol in São Paulo by its Director, Daniela Alfonsi.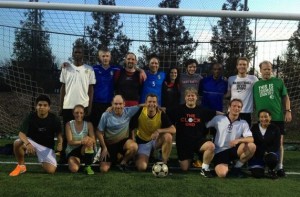 After three deeply fulfilling days of conferencing and networking, the gathering ended in the best possible way: a sunset pickup game at the Hofstra soccer stadium.  A perfect conclusion to an academic conference on fútbol.  It demonstrated that soccer in the U.S.A can no longer be labeled the game of the future: it is the game of the here and now.
The following two tabs change content below.
Peter Alegi is Professor of History at Michigan State University. He is the author of Laduma! Soccer, Politics, and Society in South Africa (University of KwaZulu-Natal Press, 2004) and African Soccerscapes: How a Continent Changed the World's Game (Ohio University Press, 2010). With Peter Limb, Alegi hosts the "Africa Past and Present" podcast. Follow him on Twitter @futbolprof.
Latest posts by Peter Alegi (see all)