Primary Source: Football is Coming Home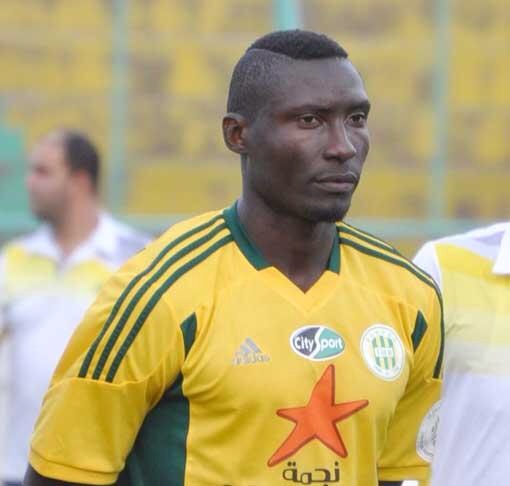 Albert Ebossé, the Algerian league's top striker last season, was killed by a stone thrown from the stands during a match on Saturday in Tizi Ouzou. It was hurled by someone in a section of the stadium occupied by supporters of his own team, JSK.
The Algerian authorities have opened an investigation on this senseless killing. Meanwhile, the Tizi Ouzou stadium is closed until further notice.
Born in 1989 in Douala, Cameroon, Ebossé stood out on the pitch for his physical size, scoring ability, and unbreakable spirit. In a series of tweets, the Algerian football analyst Mezahi Maher described him as "one of the best I've seen in the Algerian league. [He] Seemed invincible against the nastiest defenders. That air of indestructibility further adds to the shock."
Widely respected by teammates and the media in Algeria, Ebossé embodied the hemle (Bassa for "pride") so revered in Douala, as Ntone Ndjabe explained in a terrific World Cup preview of the Cameroon squad published in the Financial Times.
When, during a match in Sétif, spectators spewed monkey chants at him, Maher recalled, Ebossé remained composed and focused. Later in the match he soared above the defenders to score on a powerful header. Ebossé celebrated by doing a "monkey dance" for the crowd. Hemle.
His 17 goals in 2013-14 attracted the attention of several European clubs. However, with a daughter born just one week ago and a year left on his JSK contract, Ebossé decided to stay put: "Tizi Ouzou is special. Here I feel as if I'm with my own family in Douala."
It was a member of his "family" who killed him.
The following two tabs change content below.
Peter Alegi is Professor of History at Michigan State University. He is the author of Laduma! Soccer, Politics, and Society in South Africa (University of KwaZulu-Natal Press, 2004) and African Soccerscapes: How a Continent Changed the World's Game (Ohio University Press, 2010). With Peter Limb, Alegi hosts the "Africa Past and Present" podcast. Follow him on Twitter @futbolprof.
Latest posts by Peter Alegi (see all)