Primary Source: Football is Coming Home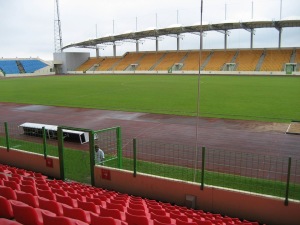 The Confederation of African Football has announced that Equatorial Guinea will replace Morocco as host nation for the 2015 African Nations Cup, the continent's oldest and most prestigious international tournament.
The decision followed "fraternal and fruitful discussions" between CAF and Equatorial Guinea's President Obiang, according to CAF's official statement. Matches will be played in Malabo, Bata, Mongomo and Ebebiyin. The draw is scheduled for December 3 in Malabo.
The oil-rich former Spanish colony, population 736,000, previously co-hosted the tournament, with Gabon, in 2012.
CAF's announcement brought a controversial and increasingly tense saga to a close. Morocco's decision to back out of its commitment to stage the Nations Cup came in the wake of the Ebola outbreak in West Africa. The North African nation's withdrawal drew passionate criticism from many fans and observers in Africa and overseas.
Writing for The Guardian's Comment is Free, Sean Jacobs (the South African founder of the Africa Is A Country website) argues that "a mix of politics, opportunism and self-interest seem to be behind Morocco's decision."
The incident, Jacobs explains, is evidence of Morocco's "difficult relationship with nations south of the Sahara. African migrants, some on their way to Europe, regularly complain about harassment, violence and xenophobia."
James Dorsey's The Turbulent World of Middle East Soccer blog took a similar tack. "Morocco can't escape the impression that its decision was informed by prejudice," especially within the context of a long and complex history of economic, cultural, and political relations between North African countries and sub-Saharan African nations. And, of course, fear shaped the decision as well. Fear, specifically, "about the possible impact of an Ebola case on tourism that accounts for an estimated ten percent of Morocco's gross domestic product."
Morocco's seemingly contradictory decision not to host the Nations Cup in January but to go ahead and stage the FIFA World Club Cup next month sparked more criticism.
In the end, Africa's grandest football show will go on thanks to Issa Hayatou, CAF's president for the past 26 years, and President Obiang, Africa's longest serving autocrat–in power since 1979 and at the head of the ruling Democratic Party of Equatorial Guinea that holds 153 of 155 parliamentary seats.
This last-minute African Nations Cup resolution reminds me of FIFA General Secretary Jerome Valcke's statement during the massive 2013 Confederations Cup protests in Brazil: "less democracy is sometimes better for organizing a World Cup." And, in this case, it seems to work for an African Nations Cup too.
The following two tabs change content below.
Peter Alegi is Professor of History at Michigan State University. He is the author of Laduma! Soccer, Politics, and Society in South Africa (University of KwaZulu-Natal Press, 2004) and African Soccerscapes: How a Continent Changed the World's Game (Ohio University Press, 2010). With Peter Limb, Alegi hosts the "Africa Past and Present" podcast. Follow him on Twitter @futbolprof.
Latest posts by Peter Alegi (see all)