Primary Source: Football is Coming Home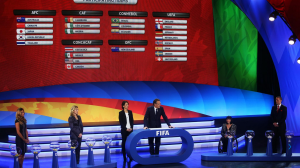 Last Saturday's 2015 Women's World Cup draw in Ottawa briefly took the global media spotlight away from the men's game. And from the players' gender discrimination lawsuit against FIFA and the Canadian Soccer Association for staging matches on artificial turf rather than natural grass.
The prominence of the women's game in the sport-media-industrial complex happens so rarely, and tends to be so fleeting, that the Football Scholars Forum, the online fútbol think tank based at Michigan State University, decided to devote its final event before the holiday break to a thorough discussion of the state of the women's game internationally, both on the pitch and in the scholarly literature.
This veritable intellectual pelada (pickup game) takes place on Thursday, December 11, at 2pm Eastern U.S. Time (-5 GMT). To jumpstart the Skype discussion, eminent scholars of the game have written pre-circulated blog posts on the FSF website.
Click here to read "When Two Elephants Fight, It is the Grass That Suffers" by Jean Williams (DeMontfort University, @JeanMWilliams).
Click here to read "Marimachos: On Women's Football in Latin America" by Brenda Elsey (Hofstra University, @politicultura) and Joshua Nadel (North Carolina Central University, @jhnadel).
Click here to read "The National Teams We Know Nothing About" by Gwen Oxenham.
This is not the first time that FSF has delved into aspects of the study and play of women's football. In 2011, just before the last Women's World Cup, Cynthia Pelak and Jennifer Doyle facilitated a vigorous session (click here for details and audio). A second gathering a year later pivoted around Jun Stinson's short documentary film, The 90th Minute (click here to listen to my interview with the filmmaker), and featured an intervention by Gwen Oxenham, author of Finding the Game (click here for audio).
To participate in the December 11 FSF event via Skype, please contact Alex Galarza on Twitter (@galarzaalex) or by email at galarza.alex AT gmail. See you on the virtual pitch!
The following two tabs change content below.
Peter Alegi is Professor of History at Michigan State University. He is the author of Laduma! Soccer, Politics, and Society in South Africa (University of KwaZulu-Natal Press, 2004) and African Soccerscapes: How a Continent Changed the World's Game (Ohio University Press, 2010). With Peter Limb, Alegi hosts the "Africa Past and Present" podcast. Follow him on Twitter @futbolprof.
Latest posts by Peter Alegi (see all)