Primary Source: Football is Coming Home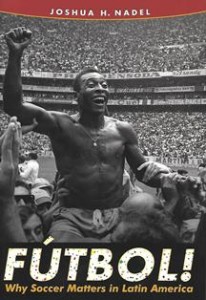 How does football shape national narratives in Latin America? Why is the game so closely tied to masculinity and femininity? How can studying fútbol advance our understanding of Latin American history? These and other questions were part of the Football Scholars Forum recent discussion of Joshua Nadel's Fútbol!: Why Soccer Matters in Latin America.
The author, an assistant professor of Latin American and Caribbean history at North Carolina Central University, shared his experience of writing a book that the publisher expected to have cross-over appeal.  In addition to tackling questions from the thirteen participants online, Nadel also suggested future directions for research on Latin American fútbol.
An audio recording of the event can be downloaded here.
The next gathering of the Football Scholars Forum will be on March 26 for a paper on Zambian football by Hikabwa Chipande, a PhD candidate in African history at Michigan State University. For more information about this event, please contact Alex Galarza.
The following two tabs change content below.
Peter Alegi is Professor of History at Michigan State University. He is the author of Laduma! Soccer, Politics, and Society in South Africa (University of KwaZulu-Natal Press, 2004) and African Soccerscapes: How a Continent Changed the World's Game (Ohio University Press, 2010). With Peter Limb, Alegi hosts the "Africa Past and Present" podcast. Follow him on Twitter @futbolprof.
Latest posts by Peter Alegi (see all)