Primary Source: Football is Coming Home
Eduardo Galeano, the Uruguayan conscience of a continent and author of my favorite fútbol book of all time died on Monday, April 13, at the age of 74.
"I'm wandering downtown in the rain searching for words to describe what I'm feeling right now. Something, anything to make sense of the loss," is all the prose I could muster when I heard the sad news. Fortunately, many other more capable, more productive authors, activists, and scholars posted lovely tributes, although only a few highlighted Galeano's art of fútbol writing (e.g. click here to read Dave Zirin's eulogy in The Nation).
As I searched for the appropriate, any!, words to articulate my grief and gratitude, I thought back to when I translated a chunk of the Italian edition of Soccer in Sun and Shadow into English for Joe McGinniss, the American journalist and writer with whom I was corresponding from South Africa as he finished his book The Miracle of Castel di Sangro.
By the time I had returned to Boston to write up my PhD dissertation, the English edition had finally been published (brilliantly translated by Mark Fried) and I took to opening and closing class meetings in my Soccer and Imperialism course (sic!) with a reading from what I called "the Gospel according to Galeano."
It's now been four days since our fútbol bard's passing and I've completely failed to find the just-exactly-right words to share with you.
So I returned to the source. Below is my favorite reading from Fútbology's Sacred Text. Ciao Eduardo!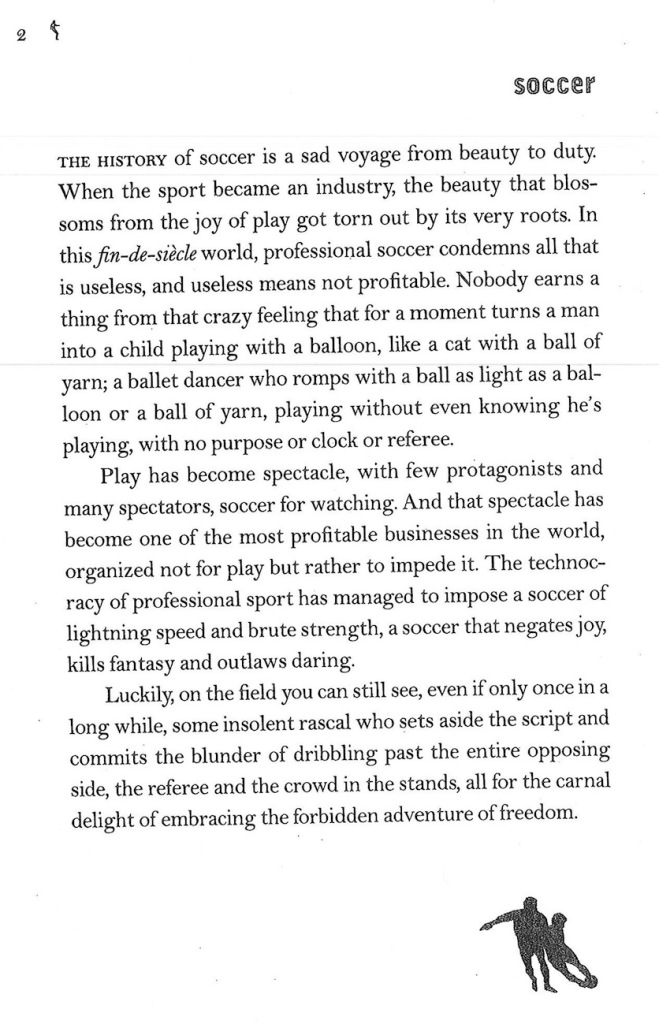 The following two tabs change content below.
Peter Alegi is Professor of History at Michigan State University. He is the author of Laduma! Soccer, Politics, and Society in South Africa (University of KwaZulu-Natal Press, 2004) and African Soccerscapes: How a Continent Changed the World's Game (Ohio University Press, 2010). With Peter Limb, Alegi hosts the "Africa Past and Present" podcast. Follow him on Twitter @futbolprof.
Latest posts by Peter Alegi (see all)