Primary Source : Thomas Padilla, September 28, 2015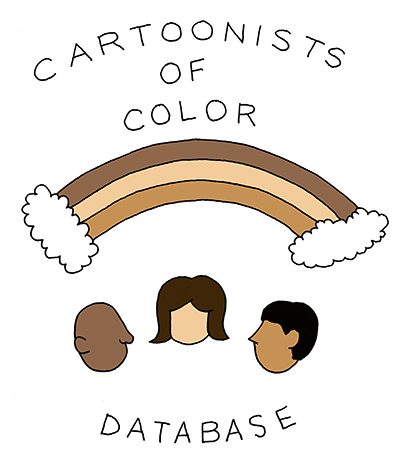 © MariNaomi
I am pleased to announce the availability of the Cartoonists of Color Dataset and the LGBTQ Cartoonists of Color Dataset. Both datasets are derived from the Cartoonists of Color Database (CoC). Dataset release is the result of a collaboration with CoC Database creator, artist, author, and illustrator MariNaomi. These datasets are provided in order to support folks interested in exploring the data computationally. For examples of possible use see "3 Visualizations that Make the Avengers Even More Awesome".
Backstory
MariNaomi developed the CoC database, "For visibility. For Academia. For inspiration. For community building." CoC contains contains biographical information (ethnicity, gender, creative roles, location, comic titles, genre, etc.) for 861 cartoonists  who identify as non-Caucasian (non-white).
The CoC database is a unique resource that holds potential to support a growing conversation on diversity (race, gender, sex) in comics that spans academic, popular, creator, and fan discourse – see "Black Comics: Politics of Race and Representation", "Ta-Nehisi Coates to Write Black Panther Comic for Marvel", "MOONSHOT: The Indigenous Comics Collection",  "Everything You Need to Know About Marvel's First-Ever Asian-American Hulk, Amadeus Cho", "Mighty, Muslim and Leaping Off the Page", "Saga ban raises questions of censorship, homophobia in comics" and the Midwest Ethnic Convention for Comics and Arts.
CoC data was gathered by hand and via completion of an online form. The database continues to grow.
Data Preparation
Data derived from the database have been minimally normalized. In some cases, data have not been normalized at all. I leave this to the discretion of the data user, but I would say to tread ethically. While the ethnicity data field contains more than 160 different types, (e.g. "mixed, black", "African American", "African-American + Afro-Bermudian / Irish-American")  some of which you could interpret as acceptable candidates for normalization, keep in mind what the act of normalization does. Especially in light of the connection between data point and identity. Take the diversity of the data as a challenge. Strain those data models. Where they don't work, cast them aside. Perhaps make something new.
Data Summary
Cartoonists of Color Dataset – contains biographical information for all cartoonists of color
20150912_coc.csv
20150912_coc.json
LGBTQ Cartoonists of Color Dataset – contains biographical information for the LGBTQ subset of the Cartoonists of Color Dataset
20150912_coc_lgbtq.csv
20150912_coc_lgbtq.json
Acknowledgements
Source data compiled and maintained by MariNaomi.
Devin Higgins advised on JSON data structure.
The following two tabs change content below.
Thomas Padilla is Digital Humanities Librarian at
Michigan State University Libraries
. Prior to his move to Michigan he was at the University of Illinois at Urbana Champaign working at the
Scholarly Commons
and the
Preservation Unit
of the University Library. Prior to that he was at the Library of Congress doing digital preservation outreach and education. Thomas maintains diverse interests in digital humanities, digital preservation, data curation, archives, History, and interdisciplinarity. His work and projects often map to these areas of interest.
Latest posts by Thomas Padilla (see all)