Primary Source : New Europe – Europe and Migration, October 17, 2015
Protests in Berlin
Berliners have been demonstrating today against the conditions at a registration point for refugees in their city. Tim Lüddeman (@timluedde) tweeted this composite image and a link to photos of the demonstration for non-commercial purposes with the hashtag #EsReicht (Enough!) that was the slogan of the demonstration, along with #LeGeSo, the German abbreviation for Landesamt für Gesundheit und Soziales (Provincial Office for Health and Social Concerns, much like the DHHS in the US).
#EsReicht! Fotos zur unkommerz. Nutzung von #moabithilft-Demo @Moabithilft https://www.flickr.com/photos/timlueddemann/albums/72157659558470539 … #Refugees #LaGeSo
The LaGeSo offices have been criticized for long wait times, ineptitude and the development of a black market around the selling of paper numbers designed to create order in serving those waiting. On October 6, 2015 ZDF broadcast alarming images of mass stampedes outside the office, with hundreds of young men in hoodies and jeans pushing each other to try and get access to the building in the darkness of early morning.<iframe width="560″ height="315″ src="https://www.youtube.com/embed/ypVPO0zYWC0″ frameborder="0″ allowfullscreen></iframe>On October 8, 2015, Michel Friedman investigated LaGeSo on his television program on n-24, the German CNN-style 24-hour news channel. 
Die Welt 
has posted what seems to be an excerpt of this report
on their website
with commentary (Trigger warning for this video: Footage of near attempted suicide as protest). According to this article in 
Die Welt
, over 18,000 refugees have arrived in Berlin since the beginning of September, when Merkel declared open borders. Homeless, without financial support, and understandably frustrated and angry, the young men featured in this video are spending their evenings sleeping in parks; their days standing in line for their numbers to flash on a large screen. From the hats and coats in the photographs of the demonstration, it is visibly cold. Winter is coming – and yet, their numbers don't appear.
Jaafar's VLOG
presents a calmer journalistic take on the conditions.
Four days ago, 20 refugees started a lawsuit against the LaGeSo. According to updates posted by rbb (Radio Berlin-Brandenburg), that number has climbed to 50. These refugees do not have lawyers, but are being supported by the initiative known as "Moabit Helps!" Moabit, the district where LaGeSo is located, hosted several anti-PEGIDA demonstrations this past summer – demos which took place in the Turmstraße, where a large park served as a gathering place. Protestors are frustrated with the incompetence of Mario Czaja, a CDU politician who serves as the Sozialsenator (Senator for Social Affairs and Health). Czaja previously faced controversy in 2006 when Spiegel Online noticed that his purported degree in economics actually came from a university known as a degree mill. He was required to step down from – yes – his post on the Research and Science committee. Protesters today began to chant "Mario Czaja, Enough is Enough!":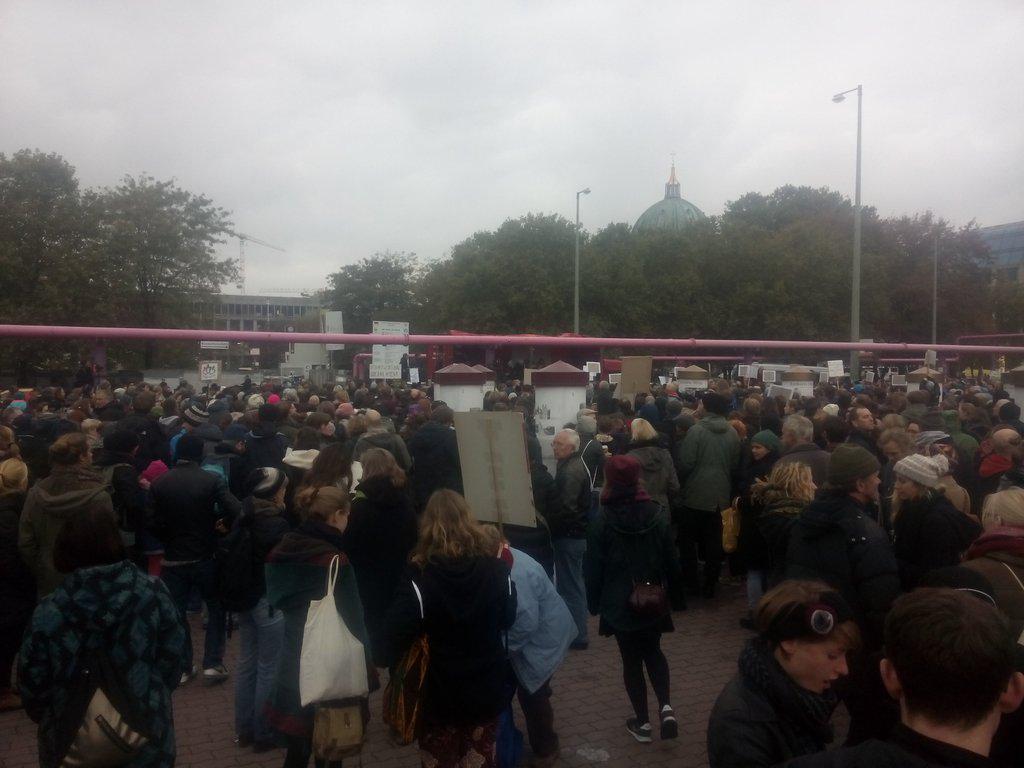 Jetzt deutlich voller am #Alexanderplatz bei #Moabithilft.Die Leute rufen "@MarioCzaja es reicht!" #refugeeswelcome
As a continuation of the protest, a 30km long candlelight vigil was planned for this evening. Some reports are stating 7-8,000 people have shown up. Critics point to the holes in the chain; PEGIDA's recent demonstrations have supposedly gathered 10,000.  Still: the images are haunting, like this one from the far eastern suburb of Kaulsdorf:
#Lichterkette Kaulsdorf sieht gut aus. Starkes Zeichen! #berlin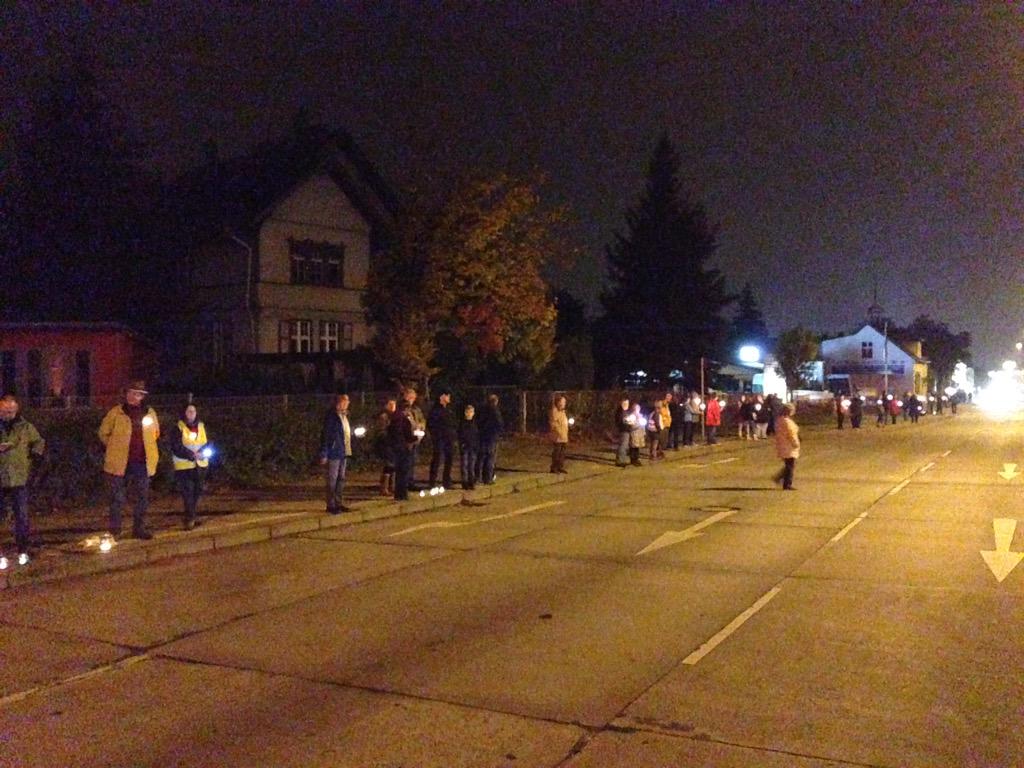 Germany's refugee crisis is producing two distinct political struggles: first there are the refugees, whose struggle in this humanitarian crisis for humane treatment seems endlessly traumatizing and often remains elusive. Last night at midnight, for instance, Hungary succeeded in sealing its border to Croatia to hinder refugees from entering their country; tonight, despite the protest, I suspect that refugees will still be sleeping in the cold in the park. The second struggle is an internal political struggle creating wide rifts not just between Right and Left, but also between the Right and the Far Right.  The Greens recently helped pass a change in asylum law with which they are uneasy.  PEGIDA-Chemnitz continues its two-week long protest against the construction of a new asylum home. In Cologne today, Henriette Reker, candidate for leading mayor supported by a broad coalition (CDU, Green, FDP, Freie Wähler) was stabbed by a right-wing extremist. Darkness and light are not static – they alternate as surely as night and day. During certain times of the year, however, especially in northern Europe, either one or the other predominates. Winter is coming.
The following two tabs change content below.
Johanna Schuster-Craig : In Europe, Scandinavia and the United States, right-wing movements of all shapes and sizes are voicing political opinions that both garner public support as well as unleash xenophobia, racism and resentments against the political elite. Many are grounded in fundamentally religious ideologies. I post about a variety of topics that have to do with understanding right-wing movements, especially when these intersect with immigration, refugee, integration politics and US/Europe comparisons. I am currently an Assistant Professor of German and Global Studies at Michigan State University.
Latest posts by Johanna Schuster-Craig (see all)