Primary Source: Football is Coming Home, October 21, 2015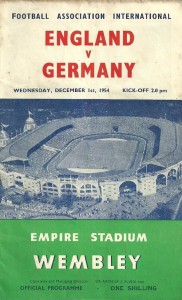 The Football Scholars Forum opened its 2015-16 season on Wednesday, October 14, with a discussion of Christoph Wagner's DeMontfort University PhD thesis entitled "Crossing The Line: The English Press and Anglo-German Football, 1954-1996."
Based on extensive archival research, "Crossing the Line" analyzes representations of Germany and Germans in English newspapers' football coverage of key international matches between the two western European nations. Within a shifting post-war historical context, the study notes a persistent undercurrent of hostility in Anglo-German cultural relations, football included.
However, two distinct phases were described. In the first, extending from the 1950s to the rise of Thatcher, dailies generally adopted a restrained tone and their coverage was notable for the "relative absence of anti-German sentiment." A major transformation occurred in the second phase, from the 1980s to the mid-1990s, as English press coverage turned more negative, chauvinistic, and increasingly xenophobic.
The FSF discussion with the author touched on many different aspects of Wagner's study, from the militarization of language in the football press and the forging of national stereotypes to narratives of English decline, methodology and sources.
A recording of the session is available here.
For more information about the Football Scholars Forum visit the online think tank's website.
The following two tabs change content below.
Peter Alegi is Professor of History at Michigan State University. He is the author of Laduma! Soccer, Politics, and Society in South Africa (University of KwaZulu-Natal Press, 2004) and African Soccerscapes: How a Continent Changed the World's Game (Ohio University Press, 2010). With Peter Limb, Alegi hosts the "Africa Past and Present" podcast. Follow him on Twitter @futbolprof.
Latest posts by Peter Alegi (see all)