Primary Source: Football is Coming Home, November 16, 2015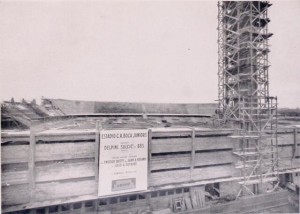 The Football Scholars Forum, the online think tank based at Michigan State University, recently explored fascinating aspects of the long and complex relationship between fútbol and politics in the history of Buenos Aires, Argentina.
In its second session of the 2015-16 season, FSF co-founder Alex Galarza, PhD candidate in History at Michigan State, shared a chapter from his dissertation: "Dreaming of Sports City: Consumption, Urban Transformation, and Soccer Clubs in Buenos Aires." Galarza's doctoral research has been funded by prestigious national and international grants, including the coveted Fulbright and FIFA Havelange scholarships.
The potential impact of Galarza's dissertation work beyond the ivory tower of academia can be gleaned from his involvement in an ongoing documentary film project. Working with four young Argentine journalists, Galarza aims to use the format of filmmaking to reveal the "hidden" history of Boca Juniors' Ciudad Deportiva—a (failed) urban renaissance construction project that sheds new light on the role of professional soccer clubs in city planning and everyday life. (Watch the trailer here.)
The Forum encouraged Galarza to explain how this history of Buenos Aires compares with the experiences of other Latin American cities, and broader processes of modernization and state formation.  The author and participants also discussed constructions of race, whiteness, and gender through fútbol, the politics of club governance, and the ideological projects behind stadium construction.
Listen to or download the audio recording here.
The following two tabs change content below.
Peter Alegi is Professor of History at Michigan State University. He is the author of Laduma! Soccer, Politics, and Society in South Africa (University of KwaZulu-Natal Press, 2004) and African Soccerscapes: How a Continent Changed the World's Game (Ohio University Press, 2010). With Peter Limb, Alegi hosts the "Africa Past and Present" podcast. Follow him on Twitter @futbolprof.
Latest posts by Peter Alegi (see all)