Primary Source: Football is Coming Home, February 4, 2016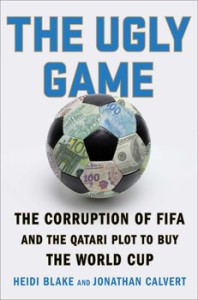 The FIFA special presidential election will take place on February 26 in Zurich, Switzerland. On Thursday, February 11, at 2pm Eastern U.S. time. the Football Scholars Forum will intellectually and spiritually prepare for this momentous event with an online discussion of The Ugly Game: The Corruption of FIFA and the Qatari Plot to Buy the World Cup by British reporters Heidi Blake and Jonathan Calvert.
The investigative reporting of Blake and Calvert drew extensively on a huge volume of leaked FIFA files they received from a whistleblower within the organization. The book explores the Machiavellian ways in which Qatar won the right to host the 2022 World Cup. The story centers around the actions of now-disgraced FIFA Executive Committee member Mohamed Bin Hammam. The evidence and allegations in the book are striking. In unveiling cash-for-votes schemes and more, the book raises profoundly troubling questions about football governance and the likelihood of the February 26 election yielding meaningful institutional reforms in a post-Blatter FIFA.
For more information about the Football Scholars Forum and to join the February 11 online conversation, email Alex Galarza (galarza DOT alex AT gmail).
The following two tabs change content below.
Peter Alegi is Professor of History at Michigan State University. He is the author of Laduma! Soccer, Politics, and Society in South Africa (University of KwaZulu-Natal Press, 2004) and African Soccerscapes: How a Continent Changed the World's Game (Ohio University Press, 2010). With Peter Limb, Alegi hosts the "Africa Past and Present" podcast. Follow him on Twitter @futbolprof.
Latest posts by Peter Alegi (see all)