Primary Source : Michigan Policy Wonk Blog, March 15, 2016
Since 1995, Michigan State University's State of the State Survey has tracked the views of Michigan residents on a wide array of topics. This survey, a part of MSU's Institute for Public Policy and Social Research, asks questions about trust in government once a year. The data tell some powerful stories about the attitudes of Michigan residents toward government at the local, state, and federal levels, for example:
1. Trust in local government has stayed fairly steady, although there is a slight downward trmknend.
2. Trust in state government deteriorated badly about a decade ago, and has never recovered. It used to be that a lot more people said they could mostly trust the state government than said they could trust it seldom or never. But now that relationship is reversed.
3. Trust in government at all levels increased right after the terrible events of 9/11, and then fell back. The upward spike and the subsequent crash were largest for trust in federal government.
4. In most years, the clear rank order has been that trust in local government is highest, followed by trust in state government, with trust in federal government lowest. However, the gap between the favorable rating for state government and the favorable rating for federal government has shrunk over time. In other words, "trust state government most of the time" has trended downward faster than "trust federal government most of the time".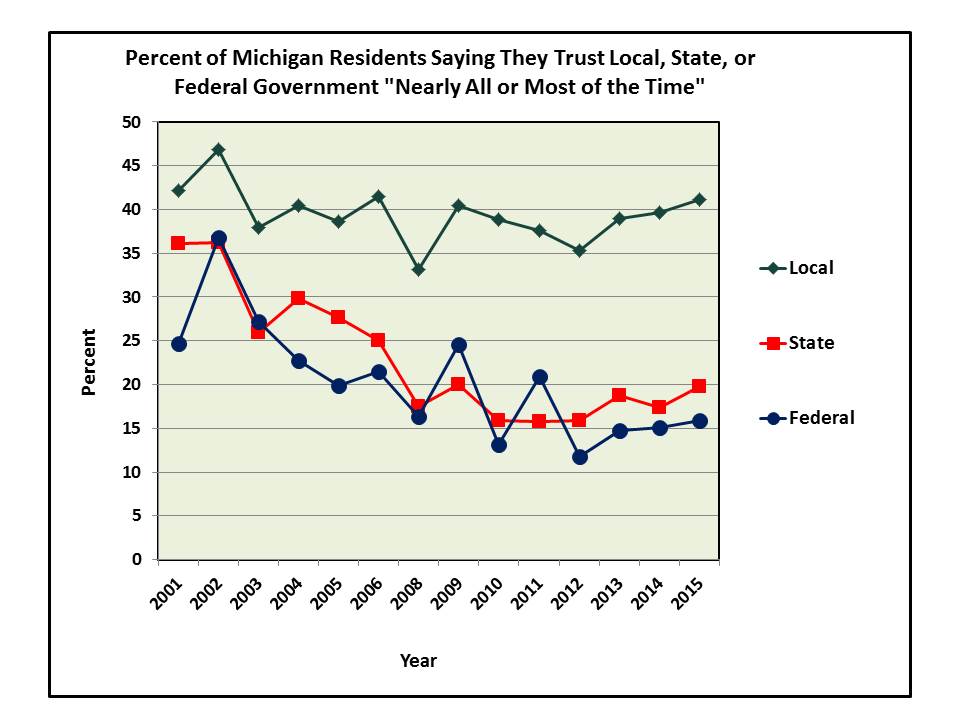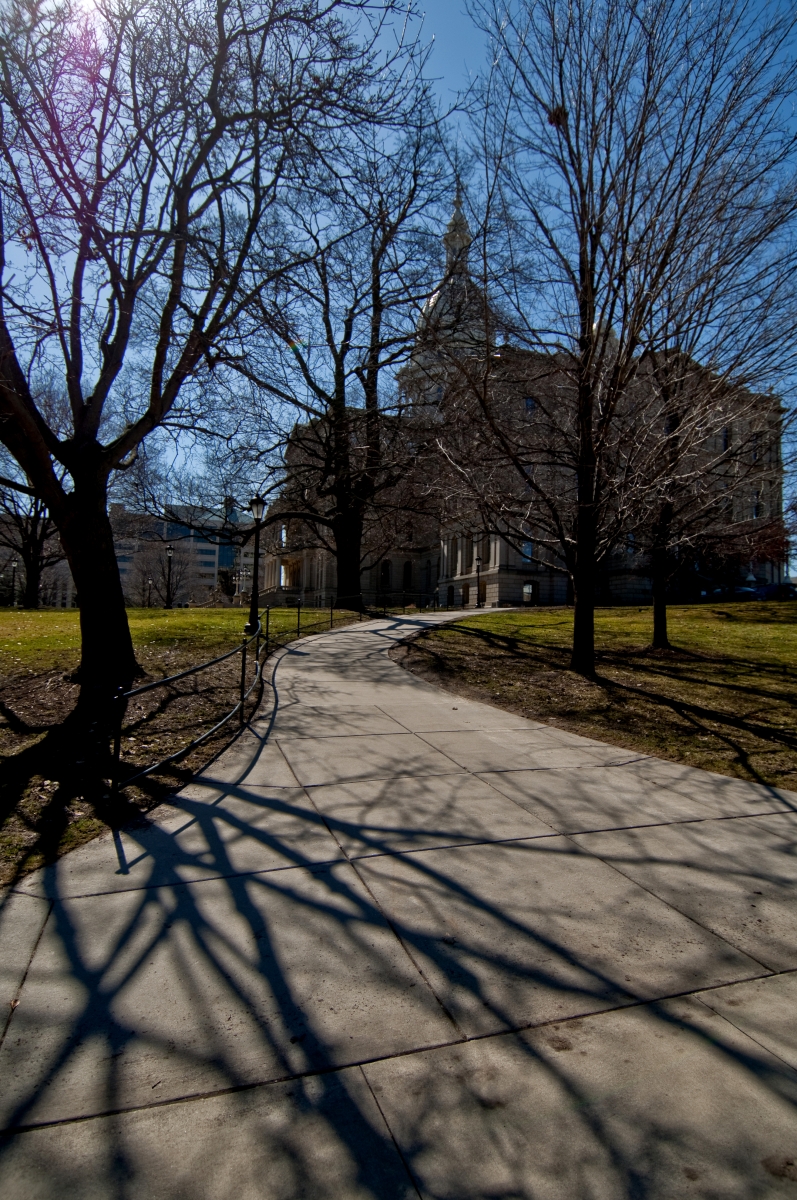 These results provide interesting insights for policymakers, particularly at the state level. Beginning around 2005, trust in state government declined seriously. This may have been a reaction to Michigan's lackluster economic performance in the first decade of the 21st century. At about the same time, the political stalemate between a Democratic governor and a Republican Legislature led to government shutdowns, and this may have contributed to the further decline in trust in state government. Trust in the state government has only recovered very slightly, even in the better economic years of late.
In comparing demographic groups, the differences between blacks and whites and their trust in local and state government stands out, with blacks trusting state and local government significantly less than whites. Also of note, Republicans trust the federal government at a lower rate than Democrats, with 8.4 percent of Republicans conveying trust in the federal government, compared to 27 percent of Democrats. Men and women tend to trust government at roughly the same levels.
MSU's State of the State Survey has been recording insights like these since it was founded in 1994. It is the only survey conducted in Michigan designed to systematically monitor the public mood on important issues in major regions of the state.
The survey is conducted quarterly via telephone – landlines and cellphones – making it an ideal vehicle for tracking statewide public opinion. It's of particular use in gathering data for scientific and policy research and in faculty research and student training.
The following two tabs change content below.
Charles Ballard has been on the Economics faculty at Michigan State University since 1983, when he received his Ph.D. from Stanford University. In 2007, he became Director of the State of the State Survey, in MSU's Institute for Public Policy and Social Research. Also in 2007, he won the Outstanding Teacher Award in MSU's College of Social Science. In 2011, he joined the Board of Directors of the Michigan League for Public Policy. He has served as a consultant with the U.S. Departments of Agriculture, Health & Human Services, and Treasury, and with research institutes in Australia, Denmark, and Finland. His books include Michigan at the Millennium and Michigan's Economic Future.
Latest posts by Charley Ballard (see all)