Primary Source : Possibilitator, May 27, 2016
There is lots going on in the world of sports. There must be, as our local daily newspaper devotes more space to covering it than any other subject, seven days a week. Some of the most watched television are sports events. And it doesn't take a genius to recognize that there is big money to be made in it. Just look at the map of the 50 states that shows the highest paid public university positions below.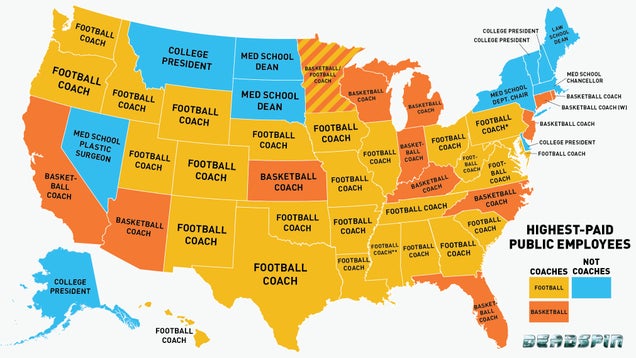 A former MSU colleague of mine now writes a penetrating look at the world of sports for a
national online sports magazine
. He continues to awaken me to issues I would easily miss regarding big time sports – professional baseball, football, basketball and hockey and major college football and basketball. So I chose to attend a talk he was giving on subsidies for college athletics last week for retired faculty. Indeed it was fascinating look at the money at play in college athletics. The subsidy issue is alive in large part because a couple of schools are in the process of deciding to either downsize their football program, or possibly eliminate it.
The hub-bub this has generated among fans and alums, especially those addicted to spectator sports, is not surprising given our culture's hunger for clashes between rivals. But as I listened to this talk and saw the various slides of data, saw a few video clips of sports pundits a few other questions arose in my mind about the role of sports, especially on college campuses.
When we first attempted a look at our campus sustainability footprint more than a decade ago one of the measures we looked at was the percent of the student population involved in intramural sports. Intramural sports are almost entirely team sports. At that time there was a slight 4 percent increase in student intramural participation between 2001 and 2005.  More than 13,000 team members were noted on a campus of about 45,000. That participation number is higher than actual distinct participants (some students play more than one sport).  A number that was thrown out during the discussion at the lecture by an attendee in the know, is that there are now about 750 student athletes on a campus of approximately 50,000 students. I don't have current numbers, but I see a major reduction in the number of softball and flag football fields available, the two team sports other than basketball that shared the highest number of participants, men and women.
If team sports are good for development of cooperation and 'team work' as professed you would think colleges would be more interested in involving more students in intramural team sports. When I was an undergrad decades ago, I played on an intramural basketball team. We lost more than we won. I remember one game where we were so over matched the score was like 75-15. Of course we were a bit despondent, we felt better weeks later when the team that decimated us won the intramural championship and later beat the varsity team in an annual contest. One lesson is that many excellent high school athletes are not up for the intercollegiate semi-professional regime. They are amateurs. The word comes from the Latin word for 'love'. Amateurs do something because they love it. They love the friendly competition and aspects of the games they play, but not all the baggage that comes with a much more regimented approach to the game.
While lavishly furnished locker rooms for football and basketball get all the attention, intramural facilities seem to be forgotten, save for the individual weight training and other machines du jour that dot our new 'fitness centers'. The fitness centers are more focused on individual activities like weight training, treadmills, and other equipment based solo efforts not the more social team sports. It would be interesting to see some studies that compare the subsidies and expenses for intercollegiate sports on campuses versus  subsidies for intramural sports. An even more interesting measure might be the per-student investment.  My guess is that the ratios would be similar to those between a typical CEO and their workers, or football and basketball coaches and professors of foreign languages.
I anticipate lots of defenses offered up for the extravagant subsidies for intercollegiate athletics – we need to attract the best athletes, the best coaches, so that we can make more money at the box office, with TV deals, sell more campus logo paraphernalia, etc. In fact just this week someone was crying that athletic directors at universities
aren't being paid enough.
 But how this meshes with institutional mission is a stretch I can't make. It appears to be more about the institution's national branding than meeting what MSU's former longest serving president observed 50 years ago,
"If educators are agreed on anything, it is that the fundamental purpose of education is to prepare young people to be good citizens."
But another concerned washed over me as I listened to the Q & A session following the talk. Might this fixation we have on spectator sports be leading us down a path that unintentionally nurtures 'spectatorship' in our communities and our politics. If we're rooting for our Alma mater to always win, or worse, to wish our arch rivals always lose, are we building synapses around winning and losing, around competition as the only game in town? I sense something troubling lurking here, perhaps even sinister.
I love sports. From my earliest days I followed baseball, football, basketball and hockey with dedication. I played many as a kid, mostly the unorganized type, but also of the more regimented when young. As I noted I played intramural sports when I was in college and when I got married I was playing softball four times a week for various teams. As a faculty member I played on a few intramural squads over the years. At age 50, some of us formed a team to play softball in the city's over-50 league. We didn't win a game our first year, but the thrill of the game, the execution of a good timely hit, a fine catch or throw, was enough to celebrate afterwords over beer and brotherhood and bring us back for more, year after year. Winning a few games and actually tying for the league championship one year didn't hurt. Playing team sports is something I highly recommend
But there is something more troubling about big time college sports than just the subsidies that may be out of balance. There's something happening here. It may not be too clear yet (with apologies to the Buffalo Springfield), but it deserves the serious look of the kind that
Frank Fear
brings to light.
The following two tabs change content below.
Terry Link is a retired MSU librarian, former founding director of the MSU Office of Campus Sustainability, and co-founder and former chair of the American Library Association's Task Force on the Environment. He recently served as associate editor for the two-volume encyclopedia, Achieving Sustainability: Visions, Principles, and Practices(Gale/Cengage 2014). He has also served as executive director of a regional food bank and as a county commissioner. Currently he is president of Starting Now, LLC, a sustainability consulting firm, a Senior Fellow for the U.S. Partnership for Education for Sustainable Development and serves on numerous non-profit organization boards.
Latest posts by Terry Link (see all)