Primary Source: Football is Coming Home, May 27, 2016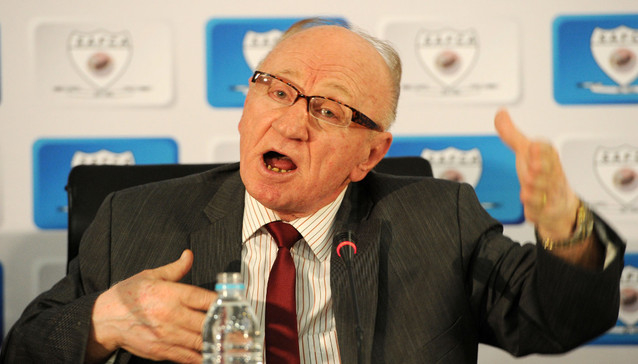 Ted Dumitru at the South African Football Coaches Association, SAFA House, Johannesburg on 22 October 2014 © Muzi Ntombela/BackpagePix
Ted Dumitru, the Romanian-born coach who had a successful career in South Africa, collapsed and died of an apparent heart attack on Thursday at Eastgate Shopping Centre in Johannesburg.
"Throughout our conversations over the years," recalls Zola Doda in a touching tribute published on Kick Off magazine's website, "Ted didn't talk a lot about his country of birth, Romania, which came across as strange to me in the beginning. All he spoke about was South Africa and the African continent as a whole—but over a period time I learned to understand how much he really loved this country and this continent."
Having coached briefly in the U.S., where he acquired citizenship,  Dumitru took the helm of Zambia's national team in 1981 and later that of Swaziland. He arrived in apartheid South Africa to coach Kaizer Chiefs in 1986, a time of mass protests and army troops deployed in the black townships. Dumitru went on to win four league titles, with Sundowns (1997-98 and 1998-99) and Chiefs (2003-04 and 2004-05), and also had a brief stint as national team coach.
Beyond his clubs' successes, Dumitru had a major impact on South African coaching education and on youth development. I saw this personally and tracked it over two decades in South Africa and from overseas.
I first met Ted Dumitru in 1995.  A friend I had met on the soccer pitch at Wits University took me to the South African Football Association's first coaching certification course held at the School of Excellence. I was introduced to Dumitru, then the Director of Coaching at SAFA, who was dressed in his typical sweatsuit-and-baseball cap attire. As soon as he learned of my work on the history of football in South Africa, he asked me to return the following morning and give a formal presentation to the coaches. Dumitru believed a country needed to know its football history in order to develop its national identity.
The next day I faced an engaged audience that included Patrick Pule "Ace" Ntsoelengoe,  Cedric "Sugar Ray" Xulu,  Neil Tovey and many other legendary figures in the South African game. If that context wasn't intimidating enough, I was also scheduled to follow the charismatic Clive Barker, then-national team coach who, a few months later, would lead Bafana Bafana to their first (and still only) African Nations Cup title.
Dumitru introduced me in a graciously professional and courteous way, which made me feel less intimidated by the moment and helped set the tone for what turned out to be a constructive session and dialogue among the participants.
During that visit, I learned of Dumitru's background in Romania in the late 1960s and 1970s. I listened to him discuss the emergence of "scientific football" as popularized by Valeriy Lobanowski, the legendary coach of Dynamo Kiev and the USSR. At the time, it was a pioneering approach. It brought together empirical data, computer technology, Soviet collectivist ideology, and Dutch total football. It transformed the way Dumitru conceived, organized, and managed football teams. As Jonathan Wilson succinctly puts it, "football was less about individuals than about coalitions and the connections between them."
To his credit, Dumitru's experiences in southern Africa altered his football philosophy and practice to reflect local conditions. Dumitru passionately believed in the technical proficiency, dynamism, and creativity of local players. He spent much of the latter part of his career teaching both young boys and adult coaches how to draw on these strengths while combining them with aspects of scientific football. In the words of Mark Gleeson, Dumitru became "an outspoken proponent of the establishment of a so-called ' South African style of play' with heavy emphasis on individual flair."
This emphasis was clearly demonstrated before my eyes again in 2010—a magical year for South Africa as it successfully hosted the first World Cup played on African soil. Dumitru came to Pietermaritzburg to help train local coaches and in the process supervised a training session at the Izichwe Youth Football program, where I was involved. His principles were put into action, as he encouraged each and every player to think about space, quick decision-making, smart passing, confidence in dribbling, relationship with teammates, and to be unafraid of expressing joy on the pitch. When one boy scored a mesmerizing goal but did not celebrate, Dumitru encouraged him to do so: "Soccer is supposed to be fun!" he exclaimed.
Dumitru, of course, had his shortcomings. According to Gleeson, he was perceived by many as "dogmatic" and few can forget his public statement that South Africa's first-round exit from the 2006 African Nations Cup was partly due to the fact that "my players don't know how to play in the rain."
Even so, Dumitru should be remembered as an innovative coach who left an important legacy in South Africa. He introduced new ideas from eastern Europe at a time when the country was isolated from international football and when South African coaching was dominated by English-speaking whites. Dumitru stands out as a rare white coach who genuinely believed in decolonizing South African football. To the end, he practiced what he preached. At the time of his passing, Dumitru was in town to give a speech at the South African Football Coaches' Association Youth Coaching Seminar at Johannesburg Stadium.
The following two tabs change content below.
Peter Alegi is Professor of History at Michigan State University. He is the author of Laduma! Soccer, Politics, and Society in South Africa (University of KwaZulu-Natal Press, 2004) and African Soccerscapes: How a Continent Changed the World's Game (Ohio University Press, 2010). With Peter Limb, Alegi hosts the "Africa Past and Present" podcast. Follow him on Twitter @futbolprof.
Latest posts by Peter Alegi (see all)