Primary Source:  Michigan Policy Wonk Blog, July 18, 2016
Even without the presence of man, wildfires engulf millions of dollars every year.  Lightning, volcanic activity, and sparks caused by friction start fires that engulf acres of forestland.  Forest fires clear dead vegetation and make space for new organisms to grow.  If this is a natural process, why have fires received more attention in the past decade (link is external)?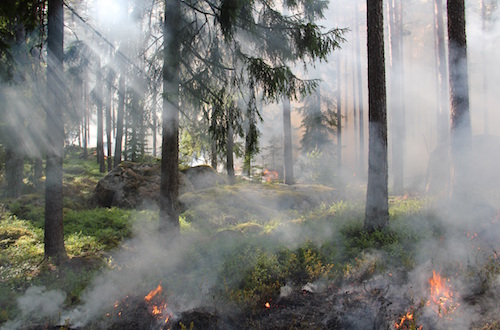 According to the US Park Service, humans cause as many as 90 percent (link is external) of forest fires seen in the United States.  So although fires are a natural phenomenon, human activity is much to blame (see this $25 million lawsuit (link is external) filed by the federal government against a California homeowner).  Not only do humans accidently start wildfires, but also mismanagement by land managers is also part of the problem.
Decades of fire suppression and poor management (link is external) practices have altered the composition of forests and created conditions ripe for uncontrollable fires.  Reducing the number of fires has allowed the forest understory to build up and grow denser than it would have naturally.  Denser forests mean more fuel for fires to burn, so once fires start, it takes a greater effort than what it once did to suppress these wildfires.  According to the US Forest Service, fire seasons are now 78 days (link is external) longer on average than they were in 1970.
Fires know no boundaries and a great deal of interagency cooperation has been needed to fight this problem.  There are five federal agencies (Department of the Interior's Bureau of Land Management, Bureau of Indian Affairs, National Park Service, and U.S. Fish and Wildlife Service, along the Department of Agriculture's Forest Service) that have fire program responsibilities, not to mention those responsible for managing state and private forests.
Although many states are at risk for severe forest fires, the biggest ones occur in western states such and California, Colorado, Oregon and Alaska.  Currently, there are two large fires burning in Colorado: the Hayden Pass Fire has burned 15,754 acres and the Beaver Creek Fire has burned 21,878 acres.  For a complete list of actively burning fires in the United States, click here (link is external).
How do the large fires in the western states affect us in Michigan?  The immediate impacts are minimal.  The smoke from some of the more eastern fires has been known to paint a pretty sunset (link is external) for Michiganders, but these western fires do not currently pose a threat to Michigan's environment.
Although not nearly as alarming as the fires on the west coast, Michigan's 19.3 million forested acres (link is external) do experience their share of forest fires annually.
A wildfire in the U.P.'s Chippewa County burned over 82 acres earlier in July.  Compared to the Okanogan fire that destroyed 304,782 acres (link is external) in 2015, these fires are minute.   However, fires have burned 580 acres in the Upper Peninsula and 2,734 acres in the Lower Peninsula. At this same time in 2015 (link is external), 171 acres had burned in the U.P. and 281 acres downstate.
This problem will, sooner or later, have substantial consequences for Michiganders and the nation.  When it comes to forest fires and climate change, it's a two way street (link is external): manmade climate change creates conditions favorable for starting these fires, and these fires are making the effects of climate change more profound.  These fires and the destruction they cause are a serious threat to the globe.
Even for those not as concerned about climate change and extreme weather, these fires take a hefty toll on the federal budget, and if nothing is done, will only continue to take an increased toll.  Fighting these fires cost the federal government more than $2 billion (link is external) last year alone.  Today, the Forest Service spends more than half (link is external) of its total budget on fire, whereas in 1995, the Forest Service spent only 16 percent of its budget on fire.
Because federal agencies such as the Forest Service do not have the budget needed to fight these fires while simultaneously funding current programs, these agencies have to take resources from non-fire related programs.  Using funds from areas other than the fire budget shuts down programs that ultimately help prevent future fires.  This practice is known as fire borrowing, and the Forest Service and the Department of the Interior are working on legislation to fix this toxic cycle.
The Wildfire Budgeting, Response, and Forest Management Act of 2016 was written to increase agency access to disaster funds, minimize transfers between programs, and address the increasing costs of proactive management.  Many environmentalists are frustrated with the current illogical system, and groups (link is external) such as The Nature Conservancy, the National Association of State Foresters, Rural Voices for Conservation, and the National Ski Areas Association are calling for the system to change.  Although it's unclear what the final bill will look like, there is a consensus that changes need to take place if America wants to prevent irreversible damage to our nation's treasures.
The following two tabs change content below.
Renee O'Connell is an undergraduate public policy and environmental biology double major. She has worked for the US Forest Service in their Washington Office and Michigan Forest Products Council in Lansing. At IPPSR, she will be writing on environmental policy and resource management.
Latest posts by Renee O'Connell (see all)