Primary Source:  Michigan Policy Wonk Blog, November 3, 2016
Few cities in the nation exemplify urban sprawl and the suburban commuting lifestyle better than Detroit, Michigan. Of those living in the metro Detroit area, 40 percent (link is external) cross county or Detroit city boundaries during their daily commute. Even though Detroit is 138 (link is external) square miles and would benefit from an effective city-wide public transit system, any effective and useful transit system would need to connect suburban cities to downtown. The commute, however, can be difficult: 92 percent of jobs (link is external) in the region aren't accessible within a 60-minute trip via transit, and 26 percent of Detroit households don't own a car. Because of the need for cooperation between numerous local, county, state, and national governments, public transit is virtually nonexistent (link is external) in metro Detroit. Next week, residents of southeastern Michigan have a real shot at overcoming regional barriers to cooperation and creating the public transit system Detroit and its surrounding cities' needs.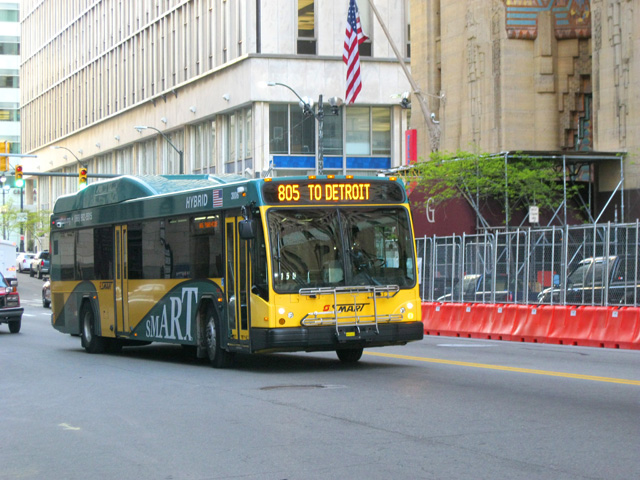 On Nov. 8, residents of Macomb, Oakland, Washtenaw and Wayne will vote on the Regional Transit Authority of Southeast Michigan's proposal to establish a rapid transit bus system. If enacted, the RTA's Master Plan would overhaul the current Detroit public transit system and create a new regional transit system connecting Macomb, Oakland, Washtenaw and Wayne counties.
Funding for this project would come from a property tax as well as state funds, federal funds and fare revenues. The millage is projected to cost the average homeowner $95 a year and the total cost is estimated at $4.6 billion (link is external) through 2036. The Bus Rapid Transit system would cost about $17 million annually to operate.
The proposal requires a majority of the combined votes (link is external) in the four-county region to pass, and polls taken in late September by the Michigan Information and Research Service had support for the Master Plan at 49 (link is external) percent (link is external).  If the millage passes, counties cannot opt out of the program. Additionally, RTA board member representatives from each county do not have the power to veto (link is external) funding decisions, essentially locking in all counties into funding the project regardless of the number of lines (link is external) in each county and the subsequent return on investment.
Not all of the four counties seem to support the plan equally, and Oakland County Executive Brooks Patterson has expressed opposition to the RTA Master Plan and claims that Oakland County will not have as much route coverage as other counties. Research (link is external) done on public transportation ballot initiatives by Palm and Handy in 2016 suggests that people tend to prioritize the projected benefit to the community over their own personal beliefs on public transportation.  Having influential public officials openly objecting to the plan on such grounds as Patterson's could make voters think twice.
Adding to worries about unequal distribution of benefits, Oakland County voters may be jaded and overwhelmed by the ongoing $1 billion I-75 freeway widening project (link is external). This massive project began in September and will finish in the year 2030 (link is external).  An estimated 80 percent of the freeway funding comes from a federal grant and 20 percent of funding comes from the state of which 12 percent must be a local match. Between the already significant monetary investment, concerns about unequal amount of rapid transit lines in Oakland County, and knowing construction is something Oakland County residents will have to deal with for over a decade to come, it seems unlikely that more than half of Oakland County voters will vote "yes" on Election Day.
Collective Benefits
Although the RTA may not have overwhelming support in Oakland County, a portion of Oakland County residents may still support the plan, as many hope a public transit system would reduce the stagnating congestion around the Palace (home of the Detroit Pistons) and DTE Music Theater.  Research done by Manville and Cummins (link is external) in 2014 supports this idea that wealthier voters who have no intention of using rapid bus transit themselves still support public transit in hopes of reducing their own commute times and exposure to smog. The study showed that support for public transit spending is more closely correlated with collective rather than private benefits, meaning that the frustration with the current congestion and traffic may be enough to push voters over the edge and agree to the extra tax to solve their own traffic concerns.
Americans generally support public transit initiatives.  Research suggests that about 80 (link is external) percent (link is external) of transportation referenda pass while only 35 percent of ballot measures overall pass.  A survey published this past Saturday among Crain's Detroit Business readers found that 71 percent favored (link is external) the transit millage. Of those who supported the millage, 58% said RBT would help more entry-level workers travel to their jobs and 14 percent said they were voting "yes" to reduce traffic congestion, echoing the results of the Manville and Cummins study. The difference in this statistic from the poll taken in late September may be due to a shift in public opinion but more likely is due to sample bias as the poll surveyed business owners. Businesses would not have to pay the homeowner tax and have a direct stake in ensuring workers can arrive to work reliably on public transit than those homeowners who already have a car and a secure means to arrive at work on time.
This Regional Transit Master Plan has been years in the making and may be the only shot for southeastern Michigan to provide its residents with adequate public transit coverage for years to come. This vote will have a serious impact on the families of southeastern Michigan for the next few years, whether it be another tax to pay or the pressure to buy a car for kids who are just turning 16. With such mixed responses from the polls, conflicting research, and swirling emotions, only time will tell what the final vote will say.
The following two tabs change content below.
Renee O'Connell is an undergraduate public policy and environmental biology double major. She has worked for the US Forest Service in their Washington Office and Michigan Forest Products Council in Lansing. At IPPSR, she will be writing on environmental policy and resource management.
Latest posts by Renee O'Connell (see all)