Primary Source: Football is Coming Home, November 15, 2016
Laurent N'Dri Pokou died on November 13, 2016, after a long illness. He was 69 years old. Pokou in the 1970s symbolized the success of postcolonial African football and, like his fellow Ivorian, Didier Drogba, many years later, captured the imagination of an entire generation of Africans.
Pokou was born on August 8, 1947, in Abidjan, Ivory Coast. Growing up in a working-class family, his father worked as a railway company office clerk, football was everywhere. He was first spotted in neighborhood matches by a talent scout from ASEC Mimosas, one of Abidjan's two powerhouse clubs (the other being Africa Sports).
ASEC quickly signed Pokou and deemed him so valuable that when the Pokou family relocated to the northern city of Bouaké in 1962, the club sent for the youngster and managed to convince his family to allow Laurent to return to Abidjan. Once back with Mimosas, Pokou sharpened his skills and transformed into an archetypal goalscorer: mobile, opportunistic, a fine dribbler, and clinical finisher. It was no surprise that he earned his first call up to Ivory Coast's national team—known as the Elephants—just in time for the 1968 African Cup of Nations in Ethiopia.
In the semifinal in Asmara (then part of Ethiopia), 21-year-old Pokou netted twice in Ivory Coast's 4-3 extra time loss to Ghana. He also scored the only goal in a 1-0 win over Ethiopia in the third-place final. Pokou's six goals meant he was crowned top scorer of the continental showcase.
Two years later, at the African Cup of Nations in Sudan, Pokou confirmed his status as one of the most prolific African strikers of his time. His five goals in a 6-1 rout of Ethiopia put the world on notice. The Elephants reached the semifinals, but once again lost to Ghana's Black Stars in extra time. Pokou's eight goals made him the tournament's top scorer for a second consecutive time and his fourteen goals set a career scoring record for the African Cup of Nations.  (Twenty-six years later, Samuel Eto'o of Cameroon finally broke it.)
Unfortunately, in February 1971 Pokou suffered a terrible knee injury during a typically combative ASEC vs. Africa Sports derby. After an operation in France and seven months of diligent rehabilitation, he returned to the pitch.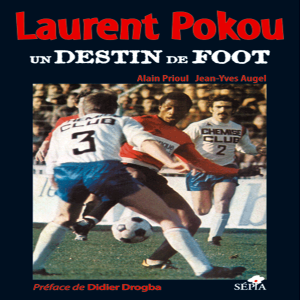 Meanwhile, according to the French journalist Alain Prioul, author of a biography of Pokou, the Ivorian President Félix Houphouët-Boigny had been preventing a number of overseas clubs from securing Pokou's services. Finally, in December 1973 the president dropped his opposition to a transfer. ASEC, having won two league titles in a row, sold Pokou to French club Stade Rennaise (aka Rennes).
As soon as he arrived in Brittany, the Ivorian striker began to deliver. Playing only the second half of the 1973/74 season, he scored seven goals in thirteen matches. The following season, Pokou increased his goal total to fourteen, but Rennes were relegated to the second division.
In 1975/76, he was having a brilliant year with seventeen goals in just twelve matches when he suffered another serious knee injury. After an operation and rehabilitation, he returned to the starting side and contributed six goals in the final stretch of the season.
In 1976/77 Pokou transferred to Nancy where he played alongside future three-time Ballon d'Or winner, Michel Platini. But bad luck struck again: another knee injury! This latest setback sharply curtailed his playing time over two physically and emotionally painful seasons. Pokou decided to return to Rennes for the 1978/79 season, even if that meant playing in the second division. His injury-plagued career in France ended on a sour note: he assaulted a referee on the pitch and received an eighteen-month suspension.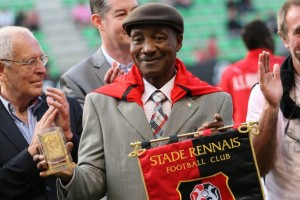 Pokou returned home to ASEC Abidjan in 1980. He earned two more caps for Ivory Coast at the 1980 African Cup of Nations before retiring. After hanging up his boots, Pokou spent many years as a youth development coach for the Ivorian Football Federation (FIF) and also served as a FIFA Ambassador.
Long before Didier Drogba became a household name, another talented, though distinctly less fortunate, Ivorian named Laurent Pokou did much to strengthen African football's self-confidence and to legitimize the continent's players status as big-time stars in the global game.
The following two tabs change content below.
Peter Alegi is Professor of History at Michigan State University. He is the author of Laduma! Soccer, Politics, and Society in South Africa (University of KwaZulu-Natal Press, 2004) and African Soccerscapes: How a Continent Changed the World's Game (Ohio University Press, 2010). With Peter Limb, Alegi hosts the "Africa Past and Present" podcast. Follow him on Twitter @futbolprof.
Latest posts by Peter Alegi (see all)