Primary Source: Football is Coming Home, January 11, 2017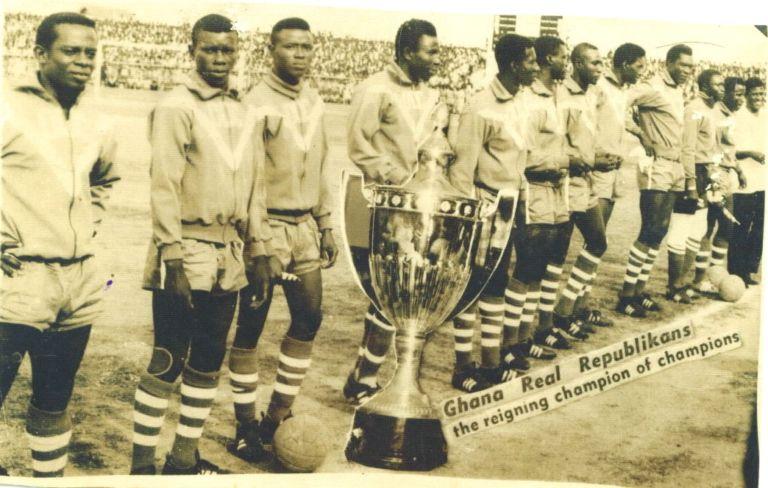 "Beyond the Pitch" is a riveting BBC World Service radio documentary that explores the close links between the "beautiful game" of football and the "dirty game" of politics in multiple African countries.
Produced by Farayi Mungazi and Penny Dale, the 50-minute feature aired on the eve of the 2017 Africa Cup of Nations (AFCON) in Gabon, which marks the 60th anniversary of the continent's most prestigious sporting event.
The documentary opens with Nigeria's boycott of AFCON 1996 in South Africa. The last-minute withdrawal of the Super Eagles came in retaliation for President Nelson Mandela's scathing criticism of Nigerian dictator Sani Abacha's regime, which in November 1995 had executed author Ken Saro Wiwa and eight more Ogoni environmental activists in a sham trial.
The next segment is captivating and among the most historically significant. It tells the story of how football helped Algeria's struggle for independence from France through mesmerizing interviews with Mohamed and Khadidja Maouche. He was a young professional footballer in France in the late 1950s, but the newlyweds were also members of the National Liberation Front (FLN), the main Algerian liberation movement. The couple reveals how they secretly worked together to facilitate an exodus of Algerian-born footballers from their French clubs to play for the FLN "national" team. "No-one knew I was married to Maouche," Khadidja says. "They would just be told a FLN activist wanted to speak to them. I would talk to them individually to say: 'It's an order, that's it,' and they all agreed." In 1960 Mohamed Maouche eventually joined the FLN team, which played matches in front of large crowds in North Africa, the Middle East, East Asia, and Eastern Europe. "We were the first ambassadors of the revolution and the Algerian people," he recalls with profound emotion half a century later.
Burundi's current President Pierre Nkurunziza, a qualified football coach and owner of Hallelujah FC, is mentioned as a bridge to a terrific interview with Dr. Hikabwa Chipande, an historian and Michigan State University alumnus (PhD, 2015). Now a lecturer in African history at the University of Zambia, Chipande brings the BBC reporter through the archives in Lusaka where he conducted doctoral research on the history of Zambian football. As they look at sources documenting former president Kenneth Kaunda's passion for and involvement in the game, Chipande points to a 1974 photograph of Kaunda serving food to the national team—quite an endearing, populist image. Mungazi then travels to Luanshya, on the Copperbelt, to talk football and politics with Dickson Makwaza, one of the players served by Kaunda in 1974, and with 91-year-old Tom Mtine, a legendary football administrator.
In the second half of the documentary we leap ahead to AFCON 2010 in Angola. The Togo national team bus was targeted by armed separatists from the enclave of Cabinda at the border with the Republic of Congo: "probably the most dramatic moment 'off the pitch' in the history of the Africa Cup of Nations," Mungazi says. The armed attack killed two men and wounded several others: "one of the worst experiences I've had in my life," said Togolese striker and English Premier League veteran, Emmanuel Adebayor.
The last time Uganda qualified for AFCON was in 1978 when the infamous Idi Amin was still in power. A local academic and former national team players explain how Amin, a keen boxer himself, bankrolled sports during his dictatorship (1971-79) to boost nationalism and also as a weapon of mass distraction. But we also hear of the traumatic experiences of John Ntensibe and Mama Baker. The former was imprisoned and forced to load bodies onto trucks after scoring the winning goal for Express FC against the army team, Simba, while Baker, a devoted Express supporter, was arrested twice for little more than being Uganda's biggest soccer fan.
Fast forward again to the 21st century: we hear about George Weah, Africa's only World Player of the Year (1995), who launched a career in politics in Liberia after retiring from the game. Weah lost a presidential election in 2004 (to future Nobel Peace laureate Ellen Sirleaf Johnson), but recently won a Senate seat and may run again for his country's highest office.
The final chapter in the story of the links between politics and football focuses on Ghana. There, top clubs Accra Hearts of Oak and Kumasi Asante Kotoko have long been entangled in party politics and presidential contests. Veteran Ghanaian reporter Kwabena Yeboah also describes the emergence of Real Republikans, a super club of the 1960s closely connected to President Kwame Nkrumah. Subsequent regimes in Ghana, it is noted, used the men's national team, the Black Stars, to strengthen their popularity and "perpetuate their reign."
As a scholar who has been writing about African football history, culture, and politics for a long time, I found Farayi Mungazi and Penny Dale's "Beyond the Pitch" documentary to be finely researched and evocatively presented through African voices. The producers did well to carefully bring out the game's contradictory capacity to be a force for empowerment and disempowerment. What a great way to get ready for the upcoming 2017 AFCON in Gabon. And what a wonderful resource for teaching and research.
Click here to listen and download the podcast version of the documentary.
The following two tabs change content below.
Peter Alegi is Professor of History at Michigan State University. He is the author of Laduma! Soccer, Politics, and Society in South Africa (University of KwaZulu-Natal Press, 2004) and African Soccerscapes: How a Continent Changed the World's Game (Ohio University Press, 2010). With Peter Limb, Alegi hosts the "Africa Past and Present" podcast. Follow him on Twitter @futbolprof.
Latest posts by Peter Alegi (see all)