Primary Source:  Michigan Policy Wonk Blog, May 11, 2017
The Opioid Crisis has been a major development in American public health alongside the recent proliferation of pain medication prescriptions. Indeed, there has been a gradual proliferation in drug overdose deaths.  As a result, state governments across the United States including Michigan have designed policy programs like limiting the initial prescription of opioids for acute pain and enhancing medical tracking procedures.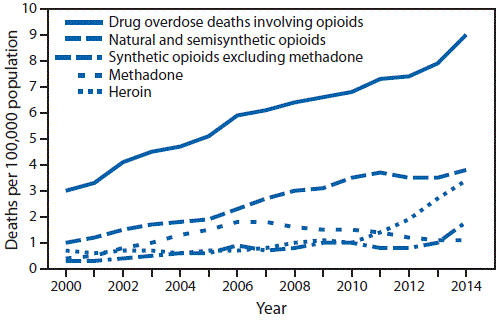 Because of the heterogeneity and novelty of these emerging policies, the response to the opioid crisis offers a natural experiment in how states respond to policy questions. More specifically, this blog will attempt to measure if the political ideology has a statistically significant effect on adopting differing Prescription Drug Monitoring Programs or day limits for prescriptions combating acute pain.
States have pursued differential policies in order to attempt to reduce the opioid epidemic, indeed PDMP policies have ranged from mandated to not available at any level. Day limits for opioid day limits ranged from 5 days to no limits at all.
Methods:
The PDMP policies were derived from a Pew database, while day limits required brute search from Google. State ideology and drug overdose rates were found from the Correlates of State Policy and the CDC respectively. In order to understand the effect of political ideology on opioid policy, these multivariate regressions control for effects in deaths that would likely incentivize legislatures to pursue preventive actions. Multivariate regression analysis was chosen because categorical representations cannot be mobilized in a standard multiple regression format.
Results: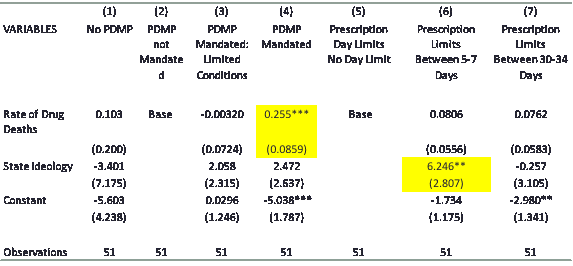 Despite expecting death rates to be a major factor in the adoption of these policies, the control variable only proved statistically significant only at a 10% level if a PDMP was mandated across all conditions of prescribing opioids. A reasonable explanation for this result is that there remain significant policy heterogeneity among the most affected states, resulting in a lack of linkage between these indicators.
State Ideology was not a statistically significant explanatory variable for any of the policy outcomes, with the exception of prescription day limits between 5-7 days, where liberal states were more likely to adopt these stricter policies at a 5% significance level.
This corresponds with a recent trend of Northeastern, traditionally liberal states including Massachusetts, New Jersey, and Connecticut adopting these statutes, while some more conservative states including West Virginia have delayed in adoption of such policies.
Conclusions:
This research concludes that while political ideology had no observed impact on adoption of stricter Prescription Monitoring programs, there was evidence of liberal ideology being an indicator of adopting more restrictive limits (5-7 days) on first-time opioid prescriptions for acute pain.
With ongoing legislative fights over opioid limits in diverse states including Montana, Minnesota, Mississippi, North Carolina, and Oregon, this upcoming term should offer evidence on the nationwide viability of such programs. Further assessment is needed following the passage of legislation to see whether these results change over time.
Further research is needed into understanding the extent of the impact which prescription lobbying organizations have had on the passage of legislation. These groups have invested $880 Million between 2005-2016 into fighting increased restrictions on opioid limits nationwide (Mulvihill et al., 2015). Additionally, looking at state legislature dynamics during the adoption of relevant bills could offer another different perspective on the importance of political parties towards state policy heterogeneity.
References:
Bernstein, Lenny. "New State Rules are Forcing Opioid Prescribers to Confront 'Doctor Shopping'." Washingtonpost.com, 2017.
Erikson, Robert S., Gerald C. Wright, and John P. McIver. Statehouse Democracy: Public Opinion, and Policy in the American States. Cambridge University Press, 1993.
Jordan, Marty P. and Matt Grossmann. 2016. The Correlates of State Policy Project v.1.7. East Lansing, MI: Institute for Public Policy and Social Research (IPPSR).
Mulvihill, Geoff, Liz Essley Whyte, and Ben Wieder. "Drugmakers fought state opioid limits amid crisis." Associated Press, 18 Sept. 2016. Google. Accessed 5 Apr. 2017.
"Number and age-adjusted rates of drug overdose deaths, US 2015." Chart. Injury Prevention & Control: Opioid Overdose, CDC, 16 Dec. 2016. Accessed 23 Mar. 2017.
"Prescription Drug Monitoring Programs." A Report from Pew Charitable Trusts, Dec. 2016. Accessed 23 Mar. 2017.
Rudd, Rose A., Noah Aleshire, Jon E. Zibbell, and R. Matthew Gladden. "Drug overdose deaths* involving opioids,†,§ by typ." Chart. Morbidity and Mortality Weekly Report, vol. 64, no. 50, 1 Jan. 2016, pp. 1378-82. Google. Accessed 23 Mar. 2017.
Vestal, Christine. "In States, Some Resistance to New Opioid Limits." Stateline, Pew Charitable Trusts, 28 June 2016. Google. Accessed 23 Mar. 2017.
The following two tabs change content below.
Karl Schneider is an undergraduate student studying International Relations and Economics. He has worked on energy and environmental research sponsored by Penn State University and the National Science Foundation. Karl is also a State Policy Fellow at IPPSR, where he is working on the Correlates of State Policy Project, the State of State Survey, and the 2016 Election.
Latest posts by Karl Schneider (see all)